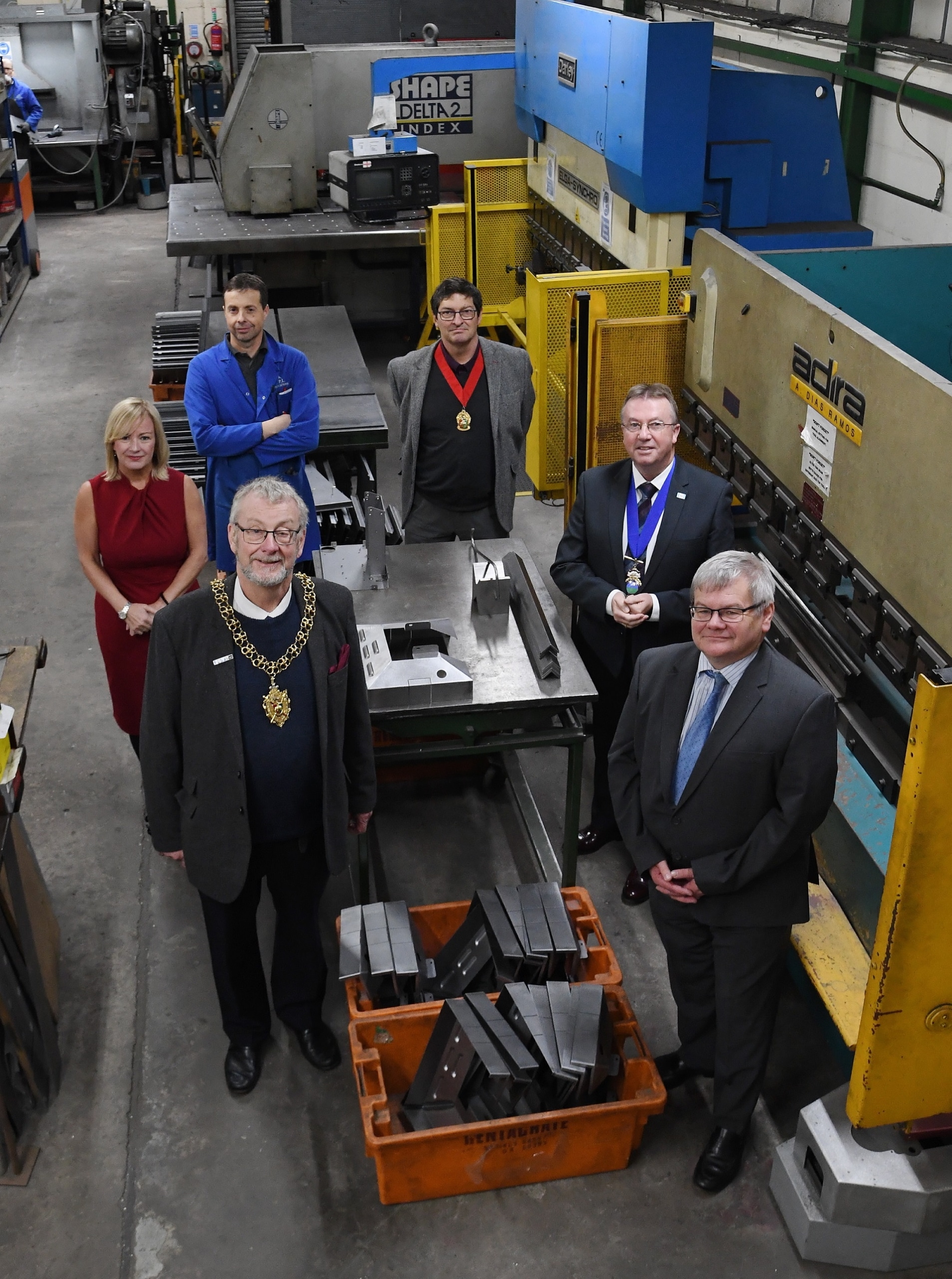 Coventry's Lord Mayor & The Chamber of Commerce visit the team at MPL Fabrications
In November, Coventry's Lord Mayor (Councillor John McNicholas), paid a visit to MPL Fabrications.  He was accompanied by Councillor Kevin Maton along with Coventry and Warwickshire Chamber president Tom Mongan and membership manager Hazel Pilling, as the Chamber has been supporting MPL since last year.
The reason for the visit was to meet Kevin and all the team to congratulate them from on taking the business which sadly was on the brink of collapse in 2020, to a business that is now back in profit. The Lord Mayor of Coventry paid tribute to everyone here at MPL Fabrications, specifically the Director of MPL Fabrications, Kevin Duffy.  In 2020, Kevin helped to save the business, along with the jobs of its fifteen loyal team members.
Kevin has managed to keep the business going as a legacy to his father-in-law Roy Hill.  Roy started the business 35 years ago but passed away in 2013. The company, is now solely run by Kevin.  Back in 2020, Kevin had taken early retirement form Jaguar Land Rover, but his successor died in 2020, leaving Kevin,  to return to work and manage the business.  MPL Fabrications is now back in profit and has taken on another apprentice to continue the company's growth.
On the day Councillor McNicholas said: "It was great to see a Coventry manufacturing company bouncing back after such a difficult period. Great credit has to go to Kevin for leading the business and supporting the employment of so many people."
Not one for taking all the credit, Kevin told the Mayor that many of the staff started as apprentices and have been here for many years, and the success was down to their dedication and commitment. Kevin also stressed that It was important to him and his wife that they kept the business going for the team and this year had been a particular success, especially with the ability to appoint a new apprentice. (For further information on recruiting a new appretice, please click here).
Both Tom Mongan and Hazel Pilling met Kevin at his Chamber networking event, they said that they are pleased with the level of support the Chamber has been able to offer MPL.  Tom Mongan said,  "When we talk about the positive impact that business has, this is a great example of that. It is providing employment to 15 people and is supporting the next generation of engineers. It was great to go out and see Kevin alongside the Lord Mayor, who was very impressed by the company's story."
All the team at MPL Fabrications are very grateful to the Lord Mayor for visiting and for all the support we have had from the Chamber. For more information on the Chamber please click here.
Pictured (left right): Back – Scott Stephenson (MPL), Councillor Kevin Maton. Centre - Hazel Pilling (Chamber), Tom Mongan (Chamber president). Front - Councillor John McNicholas, Kevin Duffy