Fabrication Services / Powder Coating
One thing which every project we deliver has in common is a commitment to excellence and precision,  coupled with the fact that we handle all projects from start to finish means that we guarantee the commitment to quality never slips.
We're based in Coventry in the heart of the midlands and we work with clients across the whole of the UK. Our reputation for excellence is based on more than a quarter of a century spent delivering bespoke demands of each and every client.
Powder coating is a type of metal finishing that is designed to offer long lasting protection to the metal as well as enhance its look.
There is an abundance of benefits for using metals in projects, such as superior strength or malleability, especially when it comes to processes such as sheet metal work or CNC machining.
However, attention also needs to be paid to how the piece will perform in its intended environment, especially if exposed to the elements, whether this involves moisture, coastal salty air or even UV light.
In addition, the appearance of unfinished metal pieces may not meet the desired look, which is why the colour may need to be applied to comply with branding, safety regulations or simply customer preference.
Here at MPL Fabrications, powder coating is one of the many services we provide to our clients. Whether you're looking for a one-off piece or a larger batch of components, our highly experienced team will oversee every aspect of the powder coating process with the extreme precision and excellence we're renowned for, having been in business for over 35 years.
As the name suggests, powder coating is made from a powder substance instead of a liquid coating such as paint. It is a type of finishing process that is applied to suitable types of metal, to protect the metal against rust, damage or corrosion.
Available in an endless amount of colours and finishes, powder coating is designed to remain on the surface of the metal for anywhere up to 25 years. Compared with an unfinished metal, the powder coating acts as a barrier between the metal itself and the elements, as well as adding a cosmetic enhancement that may make the piece more suitable for its intended usage.
As an example, because steel is a mixture of iron and carbon it is prone to rusting especially if it will be used for an exterior project such as for fencing. Therefore, by adding a powder coating, it forms a barrier between the elements and the material.
In addition, as fencing has a cosmetic requirement, the choice of colours available with powder coating will allow for the property owner to customise the look of their fence. The same analogy applies whether it is a prototype, a bike, wheel trims or any other type of metal piece you'd like us to powder coat.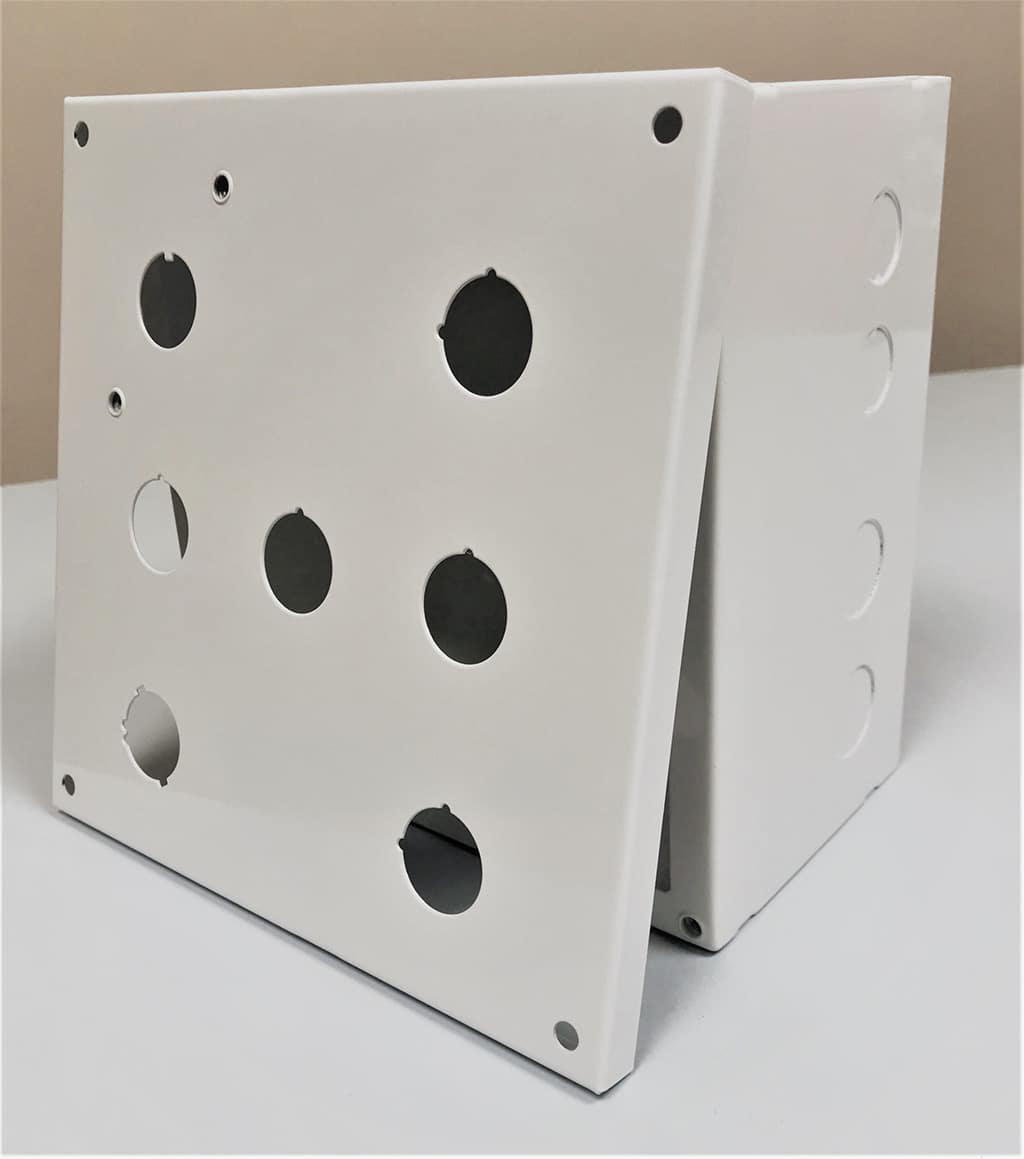 If you have any questions about our specialist powder coating services or want to discuss a specific project then please contact us on 024 7661 0778, or via email at sales@mplfabrications.com. Our expert engineers are ready and waiting to explain exactly how we could deliver the sheet metal components you need.
The Powder Coating Process
The first step of powder coating is to remove any debris such as grease, oil or dirt that may be on the surface of the metal, which will ensure a successful powder coating application. This can be achieved by soaking the component in acid, though sometimes physical or mechanical techniques will be used to both prepare and pretreat the surface of the metal. 
The powder coating application can then begin, which involves electrostatically charged particles being applied onto the surface of the metal via a feeder unit, which also allows for the control of flow to ensure an even finish. The powder is initially emitted in dispersed particles, but when combined with the electrical charge, the particles adhere to the surface of the metal. 
Curing is the final stage of the powder coating process, and this takes place within a specialist oven that typically is heated to around 400°F (204°C) for 20-30 minutes, depending on the type of powder coating that has been applied. Once the curing is complete, the protective layer will be fully formed and adhered to the surface. The piece will then be left to cool, where it will be inspected by our team before being dispatched to the client. 
Traditionally the way to change the colour or add protection to any surface is to paint it. But as a wet substance, paint requires a lot of prep work to the surface including cleaning and sanding. While powder coating also involves preparing the surface, the efficient nature of how this is achieved is far quicker and cost effective versus with paint.
In addition, many coats of paint may be required until the desired look is achieved. Within the fabrication industry, the intricate nature of some of the pieces we work with can make getting an even distribution of each paint coat almost impossible.
The finished product of paint also doesn't offer longevity nor does it always protect the metal in the way that it's needed. So while paint may be an obvious choice for the likes of wood or plastic, it's generally not the best application to use on metals.
The beauty of powder coating is that it's specifically designed with steel, steel alloys and aluminium in mind. So if your component happens to be made from either of these metals, powder coating will offer the most cost effective and long lasting way of protecting the material while also enhancing its appearance.
What Can Be Powder Coated?
Powder coating is used for metal objects including steel, most steel alloys and aluminium. Specifically, these types of metals can withstand both the electrostatic charge that's required for the powder to adhere to the surface, along with being able to tolerate the high heat levels during the curing process.
So long as the item in question is one of these metals, we'll most likely be able to powder coat it for you. Popular items to be powder coated include wheel trims within the automotive industry and aluminium windows within architecture.
Here at MPL Fabrications, we can offer powder coating to any suitable component we produce for you, or to add a finishing touch to an existing project. We can powder coat items on a one-off basis or as part of a large batch of items, ensuring both consistency and quality throughout.
Benefits Of Powder Coating
Chip resistant
Scratch resistant
Fade resistant
Corrosion resistant
Long lasting results
Tried and tested process
Wide range of colours available
Can be used to refresh existing pieces
Ideal for one-off or larger projects alike
Service completed in-house at our UK HQ
By far the biggest advantage of powder coating is that the process is extremely efficient, with most components often only requiring just one coat. As mentioned above, compared with paint, powder coating can be completed much more quickly and efficiently, which makes all the difference with intricate metal components.
Powder coating is applied under industrial circumstances, meaning its results are designed to last far longer than anything that can be achieved on an amateur level. For businesses looking for a solution to protect their steel or aluminium from rust, corrosion or general wear and tear, as well as to enhance the cosmetic appeal of features within the building, powder coating ticks every box.
Powder coating is a custom process, meaning any number of colours, finishes or textures can be applied. We'd be more than happy to advise on the most suitable colours based on the intended usage of your piece, along with what we have available. 
A great note to mention about colours and powder coating, is that if applied to a large batch of components, the colour of each piece will be unified. This can't always be guaranteed if using paint, or even separate components altogether. So where the professionalism and consistency of the pieces we produce for you are concerned, each component will perfectly match the rest. 
Below we've answered some of the most frequent questions about powder coating, to help you to best understand the process. But if you have any further powder coating queries, skip ahead to the end of the page where you'll find our contact information.
What Is The Cost For Powder Coating?
Our powder coating services are priced on an individual basis. As a UK independent family business, we offer cost-effective solutions for our clients. Please get in touch with information about your project so we can give you a specific quote.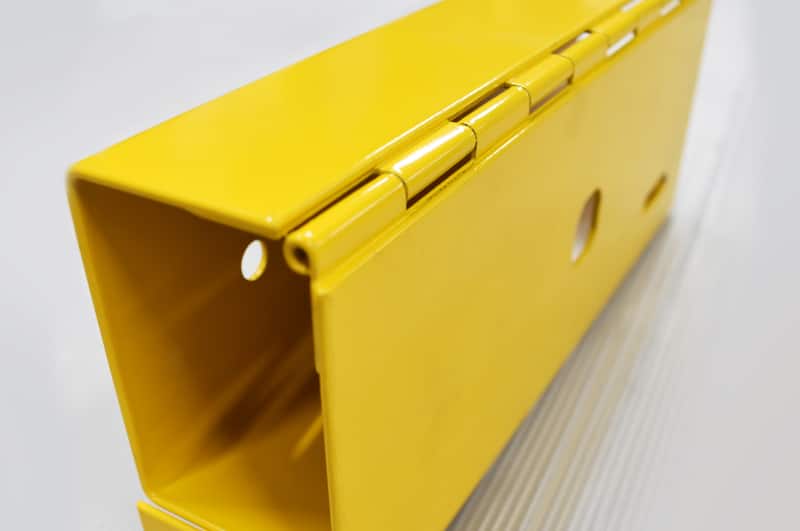 Is Powder Coating Heat Resistant?
A key component of the powder coating process is the curing, which sees the material placed under extreme heat of around 400°F (204°C). As you might expect, it would be impossible for this to happen if the material or powder coating itself wasn't able to withstand such temperatures. This heat resistance does not diminish once cured.
When you give us an overview of your project, this is the opportunity to state where and how the metal will be used. From there, we may adapt the type of powder coating used to maximise the performance of the piece for your requirements.
Does Powder Coating Scratch Easily?
Powder coating is scratch resistant, which means it's designed to withstand general wear and tear. Though, similar to how there is a difference between water resistant and waterproof, a scratch can not be entirely prevented, as it very much depends on how the component will be used.
On the whole though, the superior performance of powder coating, including its industrial application will provide long lasting protection against scratches and other forms of damage.
In addition, any scratches that were to occur would affect the outer powder coating layer and not the metal itself.
In the rare occurrence that a layer of powder coating was to scratch or chip, it is very easy to repair. Compare the same with liquid coatings which may be difficult to colour match and would require endless prep work, and powder coating remains the superior choice.
MPL Fabrications is based in Coventry offering powder coating to our clients across the entire UK. Whether you're based in London, Manchester, Leeds, Nottingham, Glasgow, Birmingham or beyond we're here to help you with all your powder coating needs.
Our powder coating services are fully bespoke to your needs. Whether you require powder coating as a separate service, or in addition to any of our sheet metal and fabrication services, get in touch and we'll give you a free quote.
Give us a call on 024 7661 0778, or email us at sales@mplfabrications.com. Our expert engineers are ready and waiting to help you with all your powder coating needs.